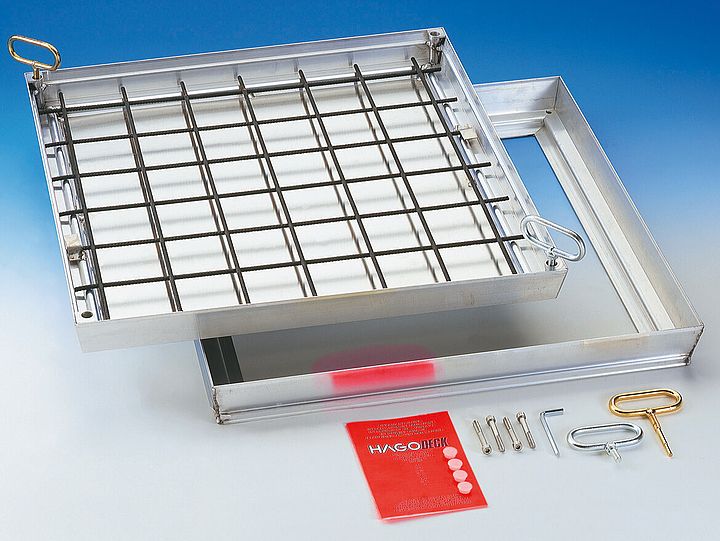 Image info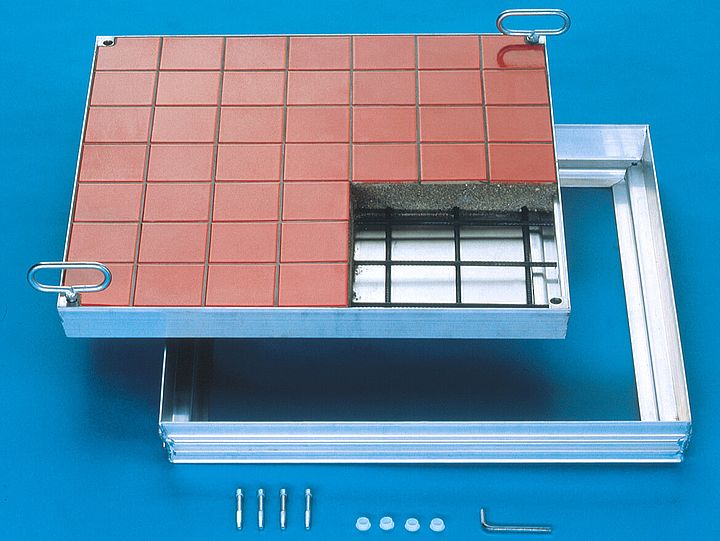 Image info



BVA Aluminium Sealed cover
LOAD CAPACITY:
125 kN test load EN 124.

MATERIAL:
Frame and cover sections in extruded aluminium. Stainless steel screws.

FEATURES:
Sealed access cover in high-quality finish. Very attractive surface, the visible edges are particularly attractive. Therefore these covers are particularly suitable where a look of elegance is required. Very easy-to-open design. Robust corner joints guarantee a very high degree of rigidity and make it easier to lay tiles and ceramic finishes. EPDM seal. The cover is reinforced with a clamped steel mesh reinforcement.

THE LIFT-OFF OPENING SYSTEM:
Every HAGODECK Type BVA alu cover comes with a set of lifting keys and precise installation instructions. The HAGO advantage: jammed covers are released by simply turning the Golden Key.

APPLICATIONS:
Inside buildings where it is important to obtain a nice visual effect. Also, in places where floor finishes may need polishing after fixing or where particular attention needs to be given to corrosion resistance.

INSTALLATION:
Installation must be carried out according to our instructions. With water-tight models, care must be taken to seal the outer frame into the surrounding flooring and to fill the cover with water-tight concrete.
types & dimensions
| Type | Clear S/O* dimensions of shaft (≈ cm) | Outside dimensions (≈ cm) | Weight approx. | S/O* |
| --- | --- | --- | --- | --- |
| | c x d | A x B | | |
| BVA 22 | 20 x 20 | 32 x 32 | 3 kg | S |
| BVA 33 | 30 x 30 | 42 x 42 | 5 kg | S |
| BVA 44 | 40 x 40 | 52 x 52 | 7 kg | S |
| BVA 45 | 45 x 45 | 57 x 57 | 8 kg | S |
| BVA 55 | 50 x 50 | 62 x 62 | 9 kg | S |
| BVA 64 | 60 x 40 | 72 x 52 | 9 kg | S |
| BVA 66 | 60 x 60 | 72 x 72 | 10 kg | S |
| BVA 63,5 | 63,5 x 63,5 | 75,5 x 75,5 | 11 kg | S |
| BVA 77 | 70 x 70 | 82 x 82 | 12 kg | S |
| BVA 86 | 80 x 60 | 92 x 72 | 12 kg | S |
| BVA 88 | 80 x 80 | 92 x 92 | 15 kg | S |
| BVA 106 | 100 x 60 | 112 x 72 | 15 kg | S |
| BVA 108 | 100 x 80 | 112 x 92 | 21 kg | S |
| BVA 110 | 100 x 100 | 112 x 112 | 23 kg | S |
Cover depth ≈ 6.6 cm
Installation height ≈ 7.6 cm
Special sizes possible
*S = available from stock
*O = to order
Section drawing
1 / Frame
2 / Cover
3 / Seal
4 / Reinforcement
5 / Allen screw
6 / Plastic cap
7 / Base plate
8 / Injection-moulded part (plastic)
9 / Square boss
Specification clause
HAGODECK Type BVA (aluminium) Access cover with Golden Key Lift Off opening tool, Type HAGODECK BVA, clear opening ....... x ....... cm, suitable for infilling with the architect's choice of floor finish. Aluminium, sealed, 125 kN (EN 124), unobtrusive corner joints (max. visible surface 30 x 30 mm). Stainless steel screws.
Installation shall be according to the manufacturer's instructions. Manufacturer: HAGO A-4600 Wels, Austria www.hago.at