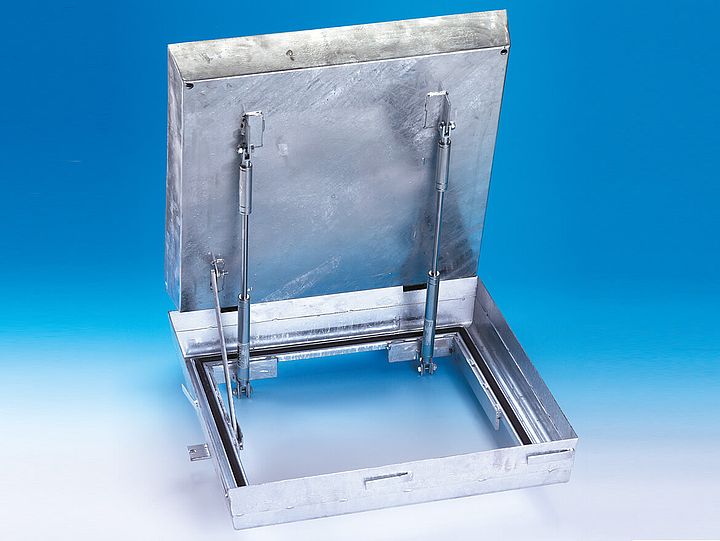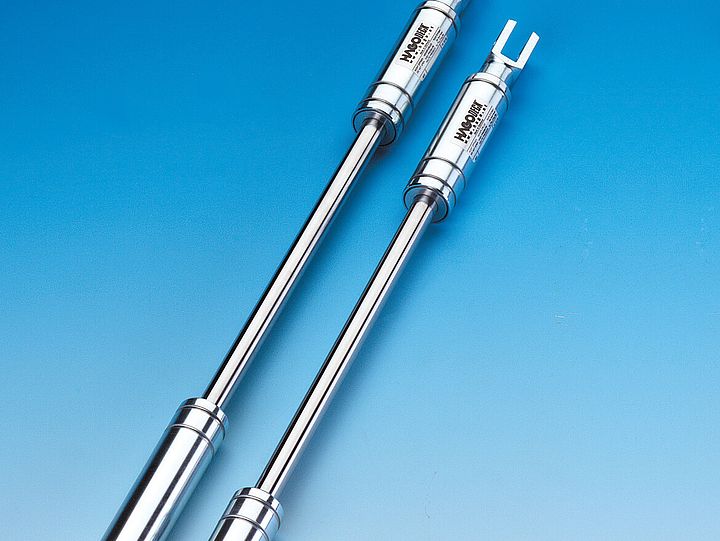 Double-piston gas struts:
The HAGO BVH-GD maxi is fitted with patented, high-specification double-piston gas struts. (Piston 1: high lift capacity, piston 2: low lift capacity). The forces developed by these double-piston gas struts correspond to a kinked characteristic curve. This is closer to the actual force needed to move the cover. This system reduces the effort required when opening and closing. The comfort aspect is particularly useful in the case of heavy covers.
Image info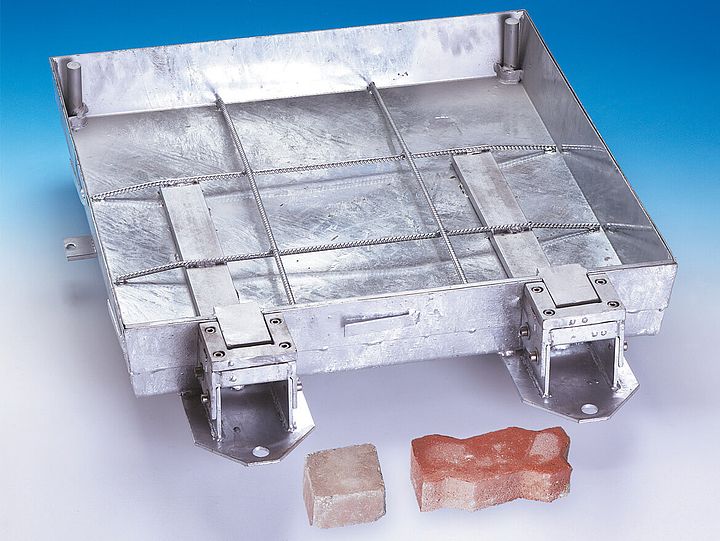 BVH-GD maxi steel galvanised BVEH-GD maxi stainless steel A deep cover for infill with paviors - with assisted opening - smell proof, largely water-tight.
Load capacity:
125 kN test load (EN 124) when filled with a min. 5 cm layer of grade C35/45 concrete (EN 206).

Material:
Frame and cover in 2 mm cold-formed precision steel profiles. Hot-dip galvanised. High-load hinges. High-specification double-piston gas struts.

Features:
Comfort-lift access cover. Cover with 10 cm deep recess. With peripheral EPDM seal, smell proof and largely water-tight (not guaranteed to be completely water-tight). Opening tools included. Opening is assisted by the patented double-piston gas struts to such an extent that the cover can be opened and closed by one person. Safety device fitted to prevent the open cover from closing.

Applications:
For installations which require access without particular effort. Especially for those installations where the cover is to be filled with concrete slabs, bricks, paving stones or paviors etc.

Installation:
Please study the enclosed installation instructions carefully before installation and pay attention to our specifications. Care must be taken to seal the outer frame into the surrounding flooring.
Important note: For transport-related reasons, the gas struts are not installed. These should be installed after the cover and frame have been installed and filled (concrete must be set), in the open position in accordance with our installation instructions.
Types & Dimensions
| Type | Clear dimensions of shaft (≈ cm) | Outside dimensions without hinge (≈ cm) | Weight empty approx. | S/O* |
| --- | --- | --- | --- | --- |
| | c x d | A x B | | |
| BVH-GDmaxi 66 | 60 x 60 | 75 x 75 | 52 kg | S |
| BVH-GDmaxi 86 | 80 x 60 | 95 x 75 | 60 kg | O |
| BVH-GDmaxi 88 | 80 x 80 | 95 x 95 | 64 kg | S |
| BVH-GDmaxi106 | 100 x 60 | 115 x 75 | 65 kg | O |
Cover depth ≈ 10.2 cm
Installation height ≈ 12.5 cm
Special sizes possible
*S = available from stock
*O = to order
Section drawing
1 / Frame
2 / Cover
3 / Seal
4 / Reinforcement
5 / Allen screw
6 / Plastic cap
7 / Hinge
8 / Anchor
9 / Gas strut
10 / Reinforcement
Specification clause
HAGODECK Type BVH-GD maxi (galvanised steel)
Access cover with Golden Key Lift Off opening tool, Type HAGODECK BVH-GD maxi, clear opening ....... x ....... cm, suitable for infilling with the architect's choice of floor finish. With 10 cm deep recess, with hinges and gas struts for assisted opening, hot-dip galvanised steel, largely sealed, 125 kN (EN 124), with corner joints. Installation shall be according to the manufacturer's instructions.
Manufacturer: HAGO A-4600 Wels, Austria www.hago.at