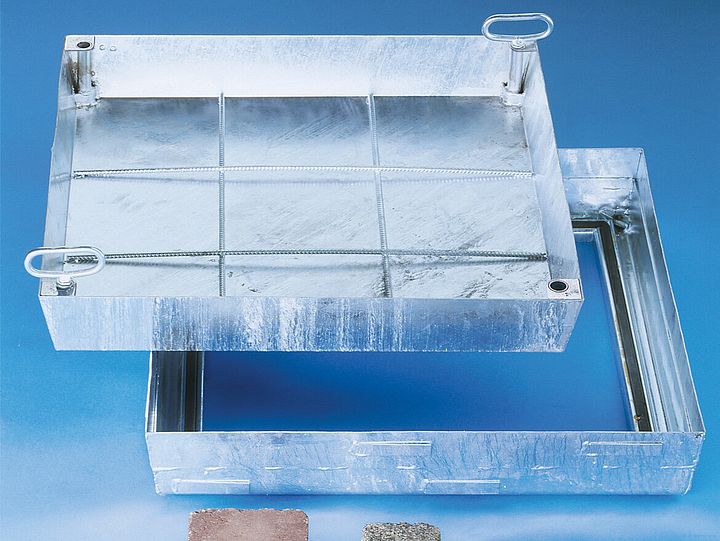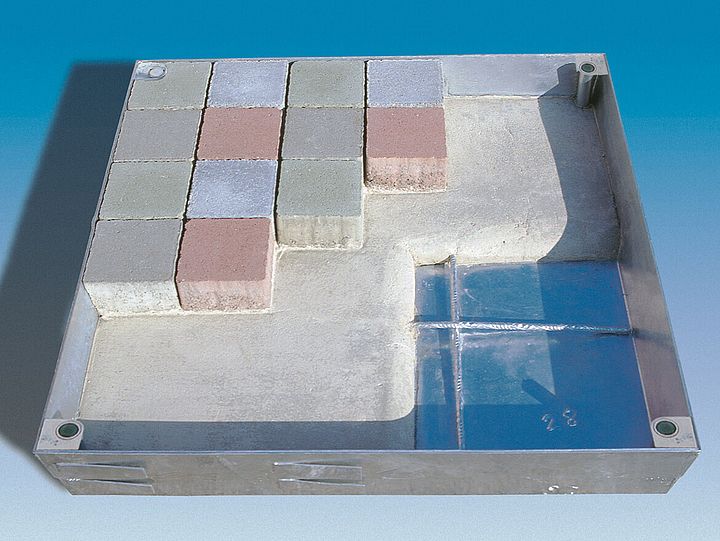 Image info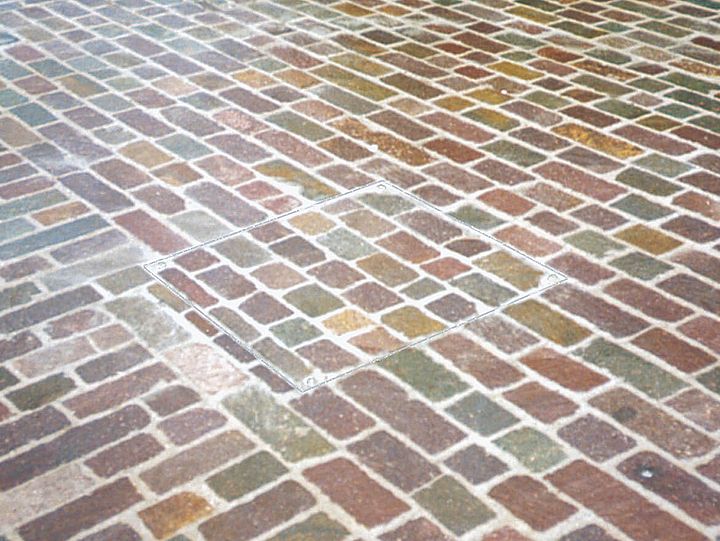 Image info



BVH-maxi steel galvanised BVEH-maxi stainless steel Sealed cover for use with paviors
Load capacity:
125 kN test load (EN 124) when filled with a min. 5 cm layer of grade C 35/45 concrete (EN 206)

Material:
Frame and cover in 2 mm cold-formed precision steel profiles. Hot-dip galvanised.

Features:
Sealed cover with 10 cm deep recess. Virtually invisible when installed. EPDM seal. Robust steel mesh reinforcement, crosswise welded. Opening tool included.

The Lift-Off opening system:
Every HAGODECK Type BVH-maxi steel cover comes with a set of lifting keys and clear installation instructions. The HAGO advantage: jammed covers are released by simply turning the Golden Key.

Applications:
Inside buildings and their surroundings. Especially for those installations where the cover is to be filled with concrete slabs, bricks, paviors etc.

Installation:
Installation must be carried out according to our instructions. With water-tight models, care must be taken to seal the outer frame into the surrounding flooring.
Types & Dimensions
| Type | Clear dimensions of shaft (≈ cm) | Outside dimensions (≈ cm) | Weight empty approx | S/O* |
| --- | --- | --- | --- | --- |
| | c x d | A x B | | |
| BVH maxi 44 | 40 x 40 | 55,2 x 55,2 | 22 kg | S |
| BVH maxi 55 | 50 x 50 | 65,2 x 65,2 | 27 kg | S |
| BVH maxi 66 | 60 x 60 | 75,2 x 75,2 | 28 kg | S |
| BVH maxi 86 | 80 x 60 | 95,2 x 75,2 | 35 kg | S |
| BVH maxi 88 | 80 x 80 | 95,2 x 95,2 | 40 kg | S |
| BVH maxi 106 | 100 x 60 | 115,2 x 75,2 | 40 kg | S |
| BVH maxi 110 | 100 x 100 | 115,2 x 115,2 | 60 kg | S |
Cover depth ≈ 10.2 cm
Installation height ≈ 12.5 cm
Special sizes possible
*S = available from stock
*O = to order
Section drawing
1 / Frame
2 / Cover
3 / Seal
4 / Reinforcement
5 / Allen screw
6 / Plastic cap
7 / Anchor
Specification clause
HAGODECK Type BVH maxi (galvanised steel)
Access cover with Golden Key Lift Off opening tool, Type HAGODECK BVH maxi, clear opening ....... x ....... cm, suitable for infilling with the architect's choice of floor finish. With 10 cm deep recess, hot-dip galvanised steel, sealed, 125 kN (EN 124), with corner joints. Installation shall be according to the manufacturer's instructions.
Manufacturer: HAGO A-4600 Wels, Austria www.hago.at