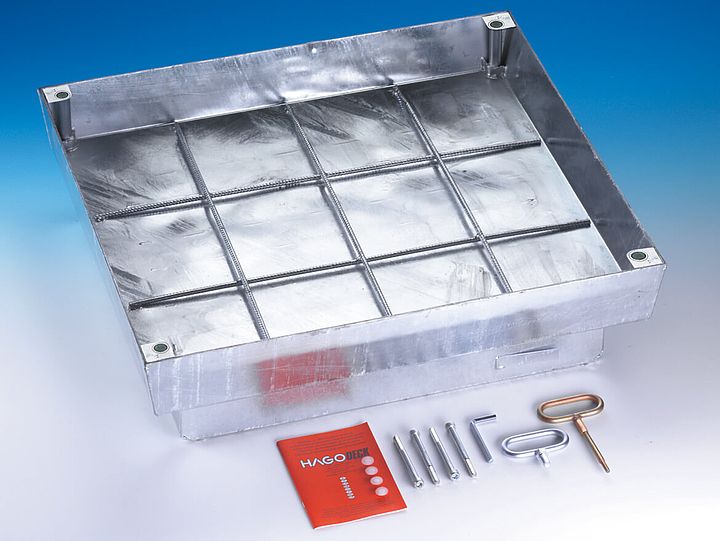 Image info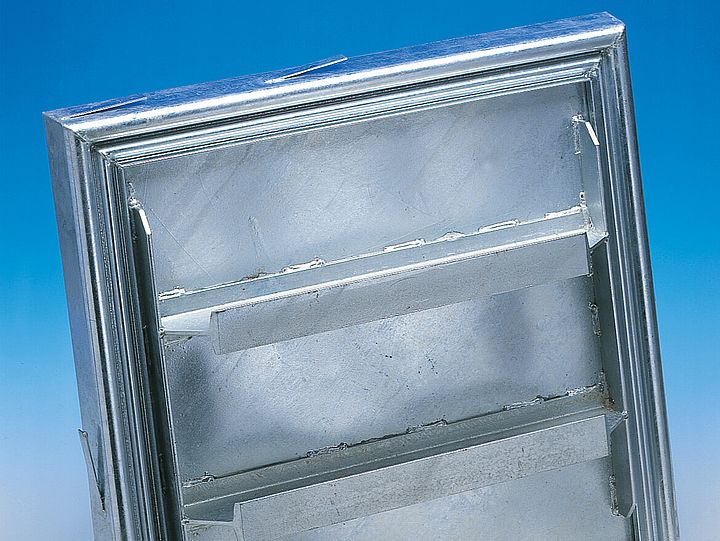 Image info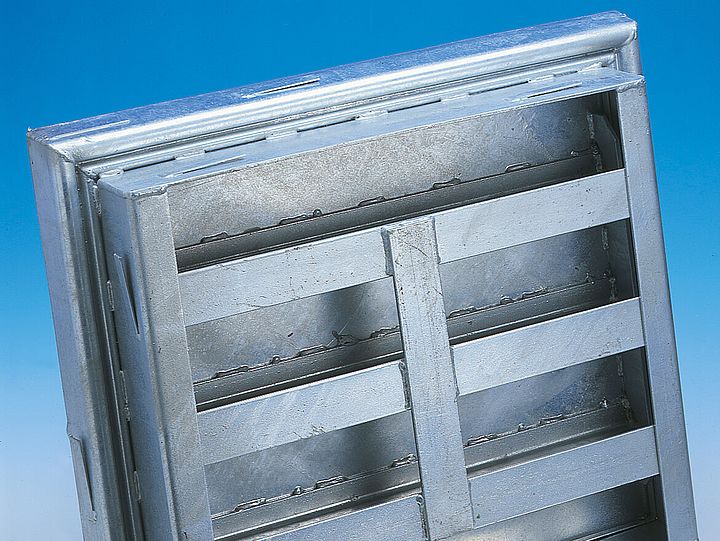 Image info



BVHS 250/BVHS 400 steel galvanised BVEHS 250/BVEHS 400 stainless steel Heavy duty covers for infill with paviors sealed
Load capacity:
250 kN or 400 kN test load (EN 124) when filled with a min. 5 cm concrete.

Material:
Frame and cover made of steel plate, hot-dip galvanised.

Features:
Heavy-duty sealed cover with 10 cm deep recess. Underside of cover reinforced with steel girders. In Type BVHS 400, the frame is reinforced with an additional frame. EPDM seal. Robust steel mesh reinforcement.

The Lift-Off opening system:
Every HAGODECK Type BVHS cover comes with a set of lifting keys and precise installation instructions. The HAGO advantage: jammed covers are released by simply turning the Golden Key.

Applications:
For use in vehicle traffic areas in industrial buildings and areas surrounding buildings or for secondary traffic areas (pedestrian zones). Especially for those installations where the cover is to be filled with concrete slabs, bricks, paviors etc.

Installation:
Installation must be carried out according to our instructions. With water-tight models, care must be taken to seal the outer frame into the surrounding flooring.
Types & Dimensions
| Type | Clear dimensions of shaft (≈ cm) | Outside dimensions (≈ cm) | Weight empty approx. | S/O* |
| --- | --- | --- | --- | --- |
| | c x d | A x B | | |
| BVHS 250/ 44 | 40 x 40 | 55,2 x 55,2 | 25 kg | O |
| BVHS 250/ 55 | 50 x 50 | 65,2 x 65,2 | 30 kg | O |
| BVHS 250/ 64 | 60 x 40 | 75,2 x 55,2 | 31 kg | O |
| BVHS 250/ 66 | 60 x 60 | 75,2 x 75,2 | 36 kg | S |
| BVHS 250/ 88 | 80 x 80 | 95,2 x 95,2 | 61 kg | S |
| BVHS 250/106 | 100 x 60 | 115,2 x 75,2 | 73 kg | O |
| BVHS 250/110 | 100 x 100 | 115,2 x115,2 | 85 kg | O |
Cover depth ≈ 10.2 cm
Installation height ≈ 12.5 cm
Steel girders penetrate ≈ 10 cm into the shaft
Special sizes possible
*S = available from stock
*O = to order
| Type | Clear dimensions of shaft (≈ cm) | Outside dimensions (≈ cm) | Weight empty approx. | S/O* |
| --- | --- | --- | --- | --- |
| | c x d | A x B | | |
| BVHS 400/ 44 | 40 x 40 | 63,2 x 55,2 | 47 kg | O |
| BVHS 400/ 55 | 50 x 50 | 73,2 x 65,2 | 56 kg | O |
| BVHS 400/ 64 | 60 x 40 | 83,2 x 55,2 | 57 kg | O |
| BVHS 400/ 66 | 60 x 60 | 83,2 x 75,2 | 69 kg | S |
| BVHS 400/ 88 | 80 x 80 | 103,2 x 95,2 | 90 kg | S |
| BVHS 400/106 | 100 x 60 | 123,2 x 75,2 | 124 kg | O |
| BVHS 400/110 | 100 x100 | 123,2 x115,2 | 179 kg | O |
Cover depth ≈ 10.2 cm
Installation heights: up to BVHS 400/ 88 ≈ 23 cm
BVHS 400/110 ≈ 27 cm Special sizes possible
*S = available from stock
*O = to order
Section drawing
1 / Frame
2 / Cover
3 / Seal
4 / Reinforcement
5 / Allen screw
6 / Plastic cap
7 / Reinforcing frame (only with BVHS 400)
8 / Reinforcement
Specification clause
HAGODECK Type BVHS 250 (galvanised steel) Access cover with Golden Key Lift Off opening tool, Type HAGODECK BVHS 250, clear opening ....... x ....... cm, suitable for infilling with the architect's choice of floor finish. With 10 cm deep recess, hot-dip galvanised steel, sealed, 250 kN (EN 124), with corner joints. Installation shall be according to the manufacturer's instructions. Manufacturer: HAGO A-4600 Wels, Austria www.hago.at

HAGODECK Type BVHS 400 (galvanised steel) Access cover with Golden Key Lift Off opening tool, Type HAGODECK BVHS 400, clear opening ....... x ....... cm, suitable for infilling with the architect's choice of floor finish. With 10 cm deep recess, hot-dip galvanised steel, sealed, 400 kN (EN 124), with corner joints. Installation shall be according to the manufacturer's instructions. Manufacturer: HAGO A-4600 Wels, Austria www.hago.at